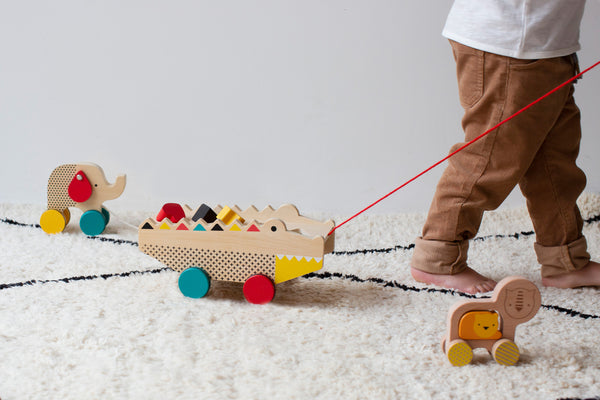 Petit Collage: Storytime
Once upon a time in San Francisco, a lady named Lorena made a petit collage…
In 2006, Petit Collage founder, Lorena Siminovich, made a little owl family collage as a gift for a pregnant friend. Her friend loved it – and Lorena loved making it.
This small, considerate gesture was the beginning of Petit Collage.
From there, Lorena designed a whole line of distinctive, handmade collages on wood, all made from recycled materials.
The products first saw light among the sunny hills of San Francisco, and soon developed into a whole range of eco-friendly toys, playthings and décor for little ones aged 0-8.
Petit Collage's bestselling Rabbit Stacker Toy delivers design and delight to many
Good design was – and still is - key in everything Lorena and her team produced. They worked hard to ensure that their designs were a source of inspiration, for children and parents alike.
This

Wooden Ferris Wheel

is both a charming toy and a colourful decoration for the nursery
Teaming up with Planet Earth
All Petit Collage goods are made from responsibly sourced materials. The team is constantly working to make sure that their toys are as eco-friendly as possible, designed with both the environment and the child in mind.
For example, here are the eco considerations that went into this Spring/Summer 2020 Baby Gift Set:
The box -
Has card dividers inside
Doesn't include single-use plastic (the only plastic used is the laminate on the box, without which it would crack and damage).
Can be recycled
Is decorated with soy-based inks
Inside –
The elephant teether is made from FSC beech wood and organic cotton
The muslin is made from organic cotton, and decorated with soy-based inks
The book is made from 80% recycled materials
And Petit Collage's bespoke Pop-Out Advent Calendar is all set for a big change this Autumn/Winter 2020 - just in time for Christmas!
The Petit Collage Advent Calendar (earlier version pictured) features 24 pop-out characters to place in a wintery scene
The plastic tray has been removed and replaced with cardboard – meaning that the entire calendar is now recyclable.
In fact, the packaging of our entire Spring/Summer 2020 collection is over 90% plastic free.
To encourage reuse, some of the packaging has now become part of the toy itself (the box is the sweet shop in The Little Sweet Shop, our eco-friendly wind-up playset due out in Autumn/Winter 2020).
Big dreams for Petit Collage
Petit Collage, once a one-woman dream in San Francisco, has become a global brand. Walk into any toy shop and you might just spot a Petit Collage toy, winking at you.
This beech wood Modern Bunny Rattle is a Petit Collage early years favourite. Our new Spring/Summer 2020 collection is now available and features many charming products just for babies!
We hope you and the little ones in your life will stay tuned for more exciting developments in the Petit Collage story!