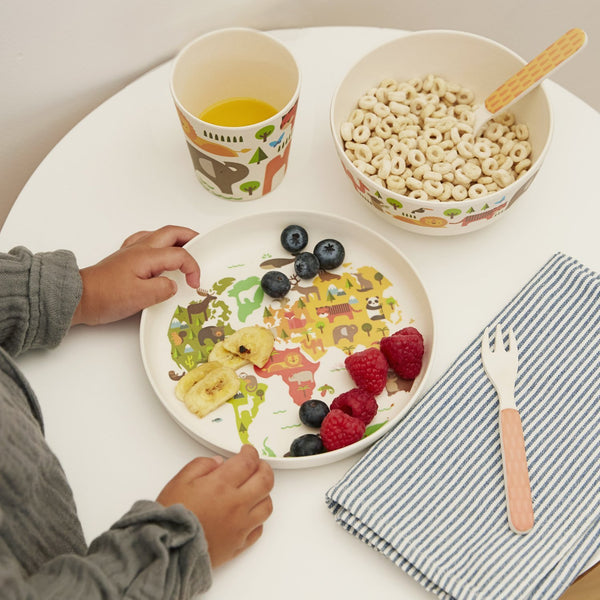 5 Fun & Family Friendly Recipes
Cooking is a great activity for the entire family! It's all the creative, messy fun of making mud pies, but a lot tastier…
We've selected 5 recipes from across the web that have simple, few ingredients and are enjoyable for you and your little one to make (and eat!).
There's one recipe for each meal of the day, so whether you're looking to make a creative breakfast, a healthy lunch or a tasty dessert, take your pick and enjoy! :)
(*in US recipes, we've converted cups and ounces to grams where possible, however please be aware that these conversions may not be 100% accurate)
Rainbow pancakes for breakfast
What's better than pancakes? Rainbow pancakes!
Prep: 10 mins, cook: 20 mins, serves 4
Ingredients
200g self-raising flour
1 tsp powder
1 tbsp golden caster sugar
½ tsp vanilla extract
200ml milk
3 eggs
25g butter, melted, plus extra for frying
red, yellow, green and blue gel food colouring (or you can use natural food colouring if you prefer, following these guidelines:

https://leitesculinaria.com/96672/recipes-natural-food-coloring.html)
To serve (optional)
punnet raspberries
punnet blueberries
whipped cream or ice cream
maple syrup
Method
Put all the pancake ingredients, except the dye, in a bowl and mix well with a whisk until smooth. Divide the batter into 5 bowls or disposable cups. Use the food colouring to dye 4 of them a different colour, leaving one plain.
Melt a small knob of butter in a large non-stick frying pan over a medium-low heat. Once foaming put spoonfuls of the pancake batter into the pan and shape into 4-5cm circles with the back of your spoon, you should have enough to make 4 pancakes from each coloured batter. Cook for 2-3 mins then flip over and cook the other side for another minute or until cooked through and ever so slightly golden.
Stack the pancakes so that everyone gets one of each colour. Serve with fresh fruit, cream or ice cream and a drizzle of maple syrup if you like.
Recipe from https://www.bbcgoodfood.com/recipes/rainbow-pancakes
Green frittata muffins for lunch
Prep: 10 mins, cook: 20 mins, cool: 10 mins, serves 3 (6 muffins in total)
Get them to eat their greens with this delicious and easy-to-make frittata recipe.
Ingredients
2 tsp olive oil, plus extra for greasing
1 garlic clove, crushed
½ large courgette, grated
handful baby spinach, roughly chopped
30g frozen peas
4 large eggs, beaten
40g Cheddar cheese, grated
Method
Preheat the oven to gas 4, 180°C, fan 160°C (356°F). Grease 6 holes of a muffin tin and put a disc of baking paper in the bottom of each.
Heat the olive oil in a small frying pan over a medium heat. Add the garlic, courgette and spinach. Cook for 4-5 mins, stirring frequently to prevent the vegetables catching on the bottom of the pan. Remove from the heat and stir through the frozen peas.
In a large bowl, gently stir the cooked vegetables and cheese into the beaten egg. Divide the mixture evenly between the prepared muffin holes.
Bake for 18-20 mins, until the frittatas are set and golden. Remove from the oven and leave to cool slightly, before releasing from the tin. Store in a plastic container.
Recipe from https://realfood.tesco.com/recipes/green-frittata-muffins.html
Cookie bites for snack time
For when they get a bit peckish... these cookie bites only require three ingredients and a food processor.
Prep: under 10 mins, no baking required
Ingredients
1 cup (about 130g) unsalted cashews
1 cup pitted dates (about 130g) or ½ cup (65g) pitted dates + ½ cup (65g) unsulphured dried apricots
3 Tbsp chocolate chips or cacao nibs
Method
Place cashews in food processor. Blend till in small pieces.
Add dates (and apricots if using). Blend till combined with cashews and in small pieces.
Take cashew/date mixture and place in a separate bowl.
Using wet hands, "stir" in chocolate chips or cacao nibs.
Take 1-2 tablespoons of dough and roll into a desired size ball.
May eat immediately or place in refrigerator for 20 minutes to firm.
Recipe from: http://www.happyfitmama.com/3-ingredient-cookie-bites/
Cheddar potato pierogies for dinner
These delicious dumplings are extremely popular in Eastern European cooking, and they're a lot of fun to make! They require a little time, but playing with pierogi dough is just as fun as playdough...
Prep: 50 mins, cook: around 15 mins total, serves: 6
Ingredients
1 (280g) baking potato, peeled and quartered
2 ounces (56g) cheddar cheese, shredded
2 tbsp unsalted butter, divided
¾ tsp salt, divided
9 ounces (255g) all-purpose flour
¾ cup (180g) light sour cream, divided
2 large eggs, lightly beaten
½ tsp extra-virgin olive oil (or any olive oil)
¾ cup (150g) diced red onion (or white onion)
2 tsp minced garlic
12 cups (about 2.8L) water
¼ cup (32g) chopped fresh flat-leaf parsley
Method
Place potato in a medium saucepan; cover with cold water. Bring to a boil. Reduce heat, and simmer 20 minutes; drain. Combine potato, cheddar cheese, 2 teaspoons butter, and 1/4 teaspoon salt in a bowl; mash with a potato masher.
Weigh or lightly spoon flour into dry measuring cups; level with a knife. Combine flour and remaining 1/2 teaspoon salt in a medium bowl. Combine 1/2 cup (120g) sour cream and eggs in a small bowl, stirring with a whisk. Add sour cream mixture to flour mixture, stirring just until combined. Wrap dough in plastic wrap; refrigerate 30 minutes.
Heat a small skillet over medium-high heat. Add oil to pan; swirl to coat. Add onion and garlic; sauté 4 minutes. Stir onion mixture into potato mixture.
Divide dough into 2 portions. Roll each portion to a 1/8-inch thickness on a lightly floured surface; cut with a 4-inch round cutter into 18 rounds. Working with 1 round at a time, spoon 1 tablespoon potato mixture onto each round. Fold dough over filling; press edges together to seal. Repeat with remaining dough and potato mixture.
Bring 12 cups (2.8L) water to a boil in a large saucepan. Add half of pierogies; cook 2 minutes or until pierogies float. Remove cooked pierogies with a slotted spoon. Repeat procedure with remaining pierogies.
Melt 2 teaspoons butter in a large nonstick skillet over medium-high heat. Add half of pierogies to pan; cook 2 minutes on each side or until golden brown. Remove from pan. Repeat procedure with remaining 2 teaspoons butter and remaining pierogies. Place 3 pierogies on each of 6 plates; top each serving with 2 teaspoons sour cream. Sprinkle evenly with parsley.
Serve with steamed broccoli florets. If you don't have a biscuit cutter, the rim of a drinking glass will work.
Recipe from https://www.myrecipes.com/recipe/cheddar-potato-pierogies
Strawberry cheesecake smoothie for dessert
Prep time: 5 mins, serves 2
It's the best time of the day! Get the flavor of cheesecake in a simple fruit smoothie with this exciting dessert.
Ingredients
1 container (4 oz, about 120g) Greek Yogurt
¼ cup (32g) cottage cheese
1 cup strawberries (200g), frozen, unsweetened
1/3 cup (80ml) milk, unsweetened
1 tbsp honey
Instructions
Combine all ingredients in a blender. If it's too thick, add more milk to reach desired consistency. Top with fresh berries and graham crackers for extra pizzazz!
Recipe from: https://www.superhealthykids.com/recipes/strawberry-cheesecake-smoothie/
Once you've made these delicious recipes, it's time for the best part – sitting down to eat them! Our cheerful 5 piece Bamboo Dinnerware Sets will surely bring a smile during mealtime.
Tag us in your cooking photos @petitcollage!