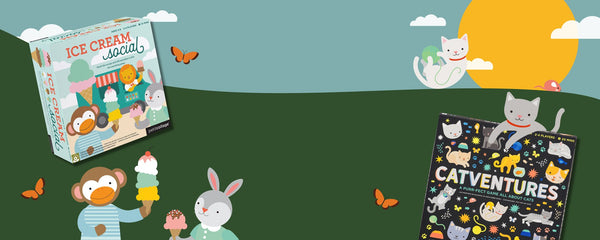 6 Summer Staycation Ideas for Kids!
Summer is fast approaching, which means that it's time for many kids to put their lessons away and focus on the most important thing: having fun!
Petit Collage has come up with these 6 great staycation ideas for you and your kids this summer. We hope they'll inspire you!
1. Stock up on board games (the really fun ones)
It's great to refresh your games selection from time to time. Fun games can take you on all sorts of adventures, right from your living room!
With Petit Collage games alone, you can walk around on your toes like cats do (Catventures); pretend to own your very own ice cream van by stacking up ice cream cones and adding sprinkles (Ice Cream Social); help some sweet animals to happily reunite (Animal Kingdom Card Game); and do everything in your power to dodge a very silly monkey… (Silly Monkey Card Game).
2. Take a hike
Discover nature as a family and take a hike to the great outdoors! Hiking is a pretty accessible family activity at the moment – and it's good for you. There's nothing like a day's hiking trip to refresh and reboot. Your kids will love running around, too. Simply look up a trail near to you, and don't forget the bug spray! 
3. Attend a virtual art class
Awaken their creativity! There are plenty of materials online to help your little one develop their skills as an artist. Here's a handy article with 8 online art classes for kids.
If you'd rather have a break from the screen, Petit Collage has a wide range of fun crafts and activities to explore. We recommend How to Draw Animals of the World, a step-by-step guide to drawing animals of all sizes!
4. Camp in the backyard!
Not all camping has to be done far from home. All you need is your backyard. Pitch up a tent, get plenty of midnight snacks and huddle on in. You can make it extra special by making hot chocolate with marshmallows and telling stories to each other by the lamplight (spooky stories if you can all bear it…)! Why not do a little stargazing before bed, too? The first one to spot the Saucepan constellation wins!
5. Go fruit picking
If there's a local farm or orchard nearby, get out there and pick some fresh fruit - then decide what to make with it (pies, cobblers, jam, muffins…). Check out this recipe for tasty blackcurrant buns if you've got blackcurrants growing close to home (if not, frozen blackcurrants will work too!). If you've got a cherry tree, gather the cherries and try out this delicious (and healthy) cherry cake.
6. Make a mega treasure hunt
Make the kids a treasure hunt that gets them searching for items around the house! You'll have a blast coming up with the clues, and they'll have a blast following them! If you're looking for a fun prize to give them at the end, how about some sweets and one of our Sticker Activity Sets? We love the Dinosaurs Sticker Activity Set!
Enjoy your staycation!
Petit Collage's mission is to design beautiful products that are long lasting, high quality and enhance the environment in which our children learn and grow.